Sell Cartoons As Greeting Cards
Here is one of my best-selling greeting card designs: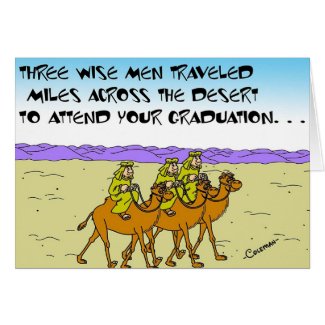 The inside message reads: "They knew they were going to witness another miracle."
There are lots of places where you can upload greeting card designs and many don't require exclusivity, which means you can submit the same design to numerous places. The card illustrated here is at Zazzle.com . You can upload designs to Zazzle, create your own pricing so that you control the royalties you get, and in addition if you promote other products of theirs you can make an additional 15% if you are a member of their affiliate program. Zazzle prints the cards on demand, collects the money and pays you your royalty.
Another source I have used is Greeting Card Universe. The royalties I receive are small, but over time they can add up, especially if you have lots of designs in their store. Here is a page of instructions on how to become one of their contributing artists.
Here are a couple of other print-on-demand greeting card sites:
If you do a search under "print-on-demand greeting cards" you will find other opportunities.
Additionally you can submit your card designs to companies who produce them in quantity (and usually demand exclusivity) such as Blue Mountain Arts and Comstock Cards. You can find a whole chapter devoted to these markets in the latest edition of Artists' & Graphic Designers Market which can be purchased from amazon.com for about $24 (or you can get a Kindle edition for less). These greeting card markets pay good rates to buy your artwork (from $50 to $150 or more).
Without too much imagination you can modify some of your existing stock of gag cartoons to convert them into greeting cards.